How to find us
ZiSMed is located at the Minervastrasse 99 in 8032 Zurich, near to the Stadelhofen station and Kreuzplatz. We are on the third floor, our center is accessible by wheelchair.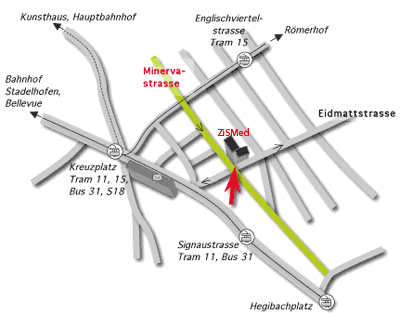 How to reach us using public transportation
Tram 15, Bus 31, Forchbahn to Kreuzplatz. From there, walk about 5 minutes.
Tram 11 to Signaustrasse, walk 4 minutes.
How to reach us from out of town
Stadelhofen station: take tram 11, 15 or S18 one stop uphill (Kreuzplatz) or walk about 10 minutes
Central station (Hauptbahnhof): take S-Bahn to Stadelhofen, or take bus 31 direction Hegibachplatz to bus stop Kreuzplatz (duration of ride 8 minutes)
How to reach us by car